Isoparatype of Protium gallosum Daly [family BURSERACEAE]
Herbario Embrapa Amazônia Oriental (IAN)
, IAN168021
Sothers, C.A.;Pereira, E.C.
, #1076
Amazonas, Reserva Florestal Ducke, Manaus-Itacoatiara, km 26. Floresta de platô, solo argiloso. Planta fichada: 1669-08.
Isoparatype of
Protium gallosum
Daly
[family
BURSERACEAE
] (stored under name); Verified by Daly, D.C., 1994/10
Árvore, subdossel. DAP=12cm. Tronco circular. Sapopemas e côncavas, A=C (20cm) e A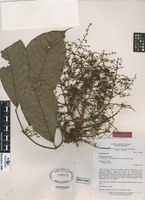 View Larger
╳
We're sorry. You don't appear to have permission to access the item.
Full access to these resources typically requires affiliation with a partnering organization. (For example, researchers are often granted access through their affiliation with a university library.)
If you believe you should be able to access this content, there are several actions you could take:
If you have an institutional affiliation that provides you access, try logging in via your institution
If you have a username and password, please log in.
If you would like to learn more about access options or believe you received this message in error, please contact us.
Thank you!
---
What the Plant Community is Saying